Westfield Insurance Foundation to Help Rebuilding Together Keep Low-Income Seniors "Safe at Home"
<< RETURN HOME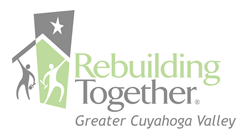 Employees will help provide home modifications through upcoming volunteer days
AKRON, OHIO – June 18, 2013
- Rebuilding Together Greater Cuyahoga Valley, an affiliate of Rebuilding Together, Inc., is proud to announce that Westfield Insurance Foundation has committed $25,000 to Rebuilding Together as a Premier Sponsor for its Safe at Home program.
Safe at Home is a key initiative for Rebuilding Together, the nation's leading nonprofit working to preserve affordable homeownership, which strives to improve home safety and independence for low-income elderly homeowners.
Through upcoming volunteer days in June, July, and beyond, Westfield employees will help Rebuilding Together improve the safety of homes by installing grab bars, handrails, improving lighting, changing faucets and door handles to lever type handles, installing high rise toilets, and more. These modifications are critical to helping seniors avoid falls in homes that present new accessibility challenges as they age. Each year, more than 11 million Americans over age 65—one out of every three—fall down. Most alarming, falls are the leading cause of death from injury to people over 65.
"Safe at Home is an opportunity for us to serve our aging seniors and address their critical home accessibility needs, which are becoming more urgent as our population ages," said Paul Holm, Executive Director of Rebuilding Together Greater Cuyahoga Valley. "Our partnership with Westfield Insurance Foundation will allow us to engage the low-income elderly community and, using cost effective methods, provide modifications that will create more livable conditions based upon their needs. The goal of our partnership is to prevent falls and increase their independence."
"Westfield Insurance is in the business of putting people's lives back together after the unexpected occurs," says Jani Groza, community investment leader. "That's why our private foundation supports programs that can prevent accidents from happening in the first place."
Rebuilding Together is currently taking applications for the program from Summit County residents. The program is provided on a "fee-for-service" basis though services may be subsidized based on homeowner income. Interested homeowners should contact Rebuilding Together Greater Cuyahoga Valley for more information.
About Westfield Insurance
Westfield Insurance Foundation seeks to support safety programs that prevent accidents in homes, cars and businesses; education programs that provide avenues to future employment; and community development programs that improve business and living conditions. The Foundation has been supporting Rebuilding Together chapters since 2007.
Westfield Insurance Foundation was established in 2005 as an independent private foundation endowed by Westfield Insurance. In business for more than 165 years, Westfield Insurance provides commercial and personal insurance in 21 active states and surety services to customers in 31 states. Westfield is one of the nation's 50 largest property and casualty insurance groups, represented by a network of over 1,000 independent insurance agencies. Westfield Bank provides banking solutions for businesses and individuals across Northeast Ohio, and Westfield Services provides service and training support for independent insurance agencies. Learn more about Westfield Insurance at
www.westfieldinsurance.com
and Westfield Bank at
www.westfield-bank.com
About Rebuilding Together
Rebuilding Together is the nation's leading nonprofit organization working to preserve affordable homeownership and revitalize neighborhoods by providing extensive rehabilitation and modification services to those in need at no cost. With the help of everyday citizen volunteers, skilled trades people, the support of local business and major corporate partners, Rebuilding Together affiliates in make life considerably better for thousands of low-income homeowners and the communities in which they live by completing 10,000 projects per year. Rebuilding Together has programs dedicated to energy efficiency, veteran's housing, aging in place, and gulf coast reconstruction.
For more information, visit
www.RebuildingTogether.org
.
About Rebuilding Together Greater Cuyahoga Valley
Rebuilding Together has served Summit County residents for 17 years, utilizing the support of thousands of volunteers and serving more than 2,000 homeowners. Rebuilding Together Greater Cuyahoga Valley continues to generate support for low-income families, the elderly, the disabled, members of the military, and veterans and their families by providing home repairs, improvements or modifications. To find out more about Rebuilding Together Greater Cuyahoga Valley, how to refer a family or how you can help, please visit
www.rebuildingtogether-sc.org
or call
330-773-4100
.
You can also follow Rebuilding Together Greater Cuyahoga Valley on Twitter
@Rebuild2gthrGCV
or become a fan on facebook at facebook.com/pages/Rebuilding-Together-Greater-Cuyahoga-Valley.
Media Contact:
paul@rebuildingtogether-sc.org
,
330-773-4100
.